Basic Tent Rental
30×45 Pole Tent

Thursday setup, Monday pickup

Accommodates up to 140 guests at 8′ banquet tables (tables not included)
Calendar Updated on June 10, 2023 at 05:34 am
June 2023
| | | | | | | |
| --- | --- | --- | --- | --- | --- | --- |
| S | M | T | W | T | F | S |
| | | | | 1 | 2 | 3 |
| 4 | 5 | 6 | 7 | 8 | 9 | 10 |
| 11 | 12 | 13 | 14 | 15 | 16 | 17 |
| 18 | 19 | 20 | 21 | 22 | 23 | 24 |
| 25 | 26 | 27 | 28 | 29 | 30 | |
July 2023
| | | | | | | |
| --- | --- | --- | --- | --- | --- | --- |
| S | M | T | W | T | F | S |
| | | | | | | 1 |
| 2 | 3 | 4 | 5 | 6 | 7 | 8 |
| 9 | 10 | 11 | 12 | 13 | 14 | 15 |
| 16 | 17 | 18 | 19 | 20 | 21 | 22 |
| 23 | 24 | 25 | 26 | 27 | 28 | 29 |
| 30 | 31 | | | | | |
August 2023
| | | | | | | |
| --- | --- | --- | --- | --- | --- | --- |
| S | M | T | W | T | F | S |
| | | 1 | 2 | 3 | 4 | 5 |
| 6 | 7 | 8 | 9 | 10 | 11 | 12 |
| 13 | 14 | 15 | 16 | 17 | 18 | 19 |
| 20 | 21 | 22 | 23 | 24 | 25 | 26 |
| 27 | 28 | 29 | 30 | 31 | | |
September 2023
| | | | | | | |
| --- | --- | --- | --- | --- | --- | --- |
| S | M | T | W | T | F | S |
| | | | | | 1 | 2 |
| 3 | 4 | 5 | 6 | 7 | 8 | 9 |
| 10 | 11 | 12 | 13 | 14 | 15 | 16 |
| 17 | 18 | 19 | 20 | 21 | 22 | 23 |
| 24 | 25 | 26 | 27 | 28 | 29 | 30 |
October 2023
| | | | | | | |
| --- | --- | --- | --- | --- | --- | --- |
| S | M | T | W | T | F | S |
| 1 | 2 | 3 | 4 | 5 | 6 | 7 |
| 8 | 9 | 10 | 11 | 12 | 13 | 14 |
| 15 | 16 | 17 | 18 | 19 | 20 | 21 |
| 22 | 23 | 24 | 25 | 26 | 27 | 28 |
| 29 | 30 | 31 | | | | |
November 2023
| | | | | | | |
| --- | --- | --- | --- | --- | --- | --- |
| S | M | T | W | T | F | S |
| | | | 1 | 2 | 3 | 4 |
| 5 | 6 | 7 | 8 | 9 | 10 | 11 |
| 12 | 13 | 14 | 15 | 16 | 17 | 18 |
| 19 | 20 | 21 | 22 | 23 | 24 | 25 |
| 26 | 27 | 28 | 29 | 30 | | |
December 2023
| | | | | | | |
| --- | --- | --- | --- | --- | --- | --- |
| S | M | T | W | T | F | S |
| | | | | | 1 | 2 |
| 3 | 4 | 5 | 6 | 7 | 8 | 9 |
| 10 | 11 | 12 | 13 | 14 | 15 | 16 |
| 17 | 18 | 19 | 20 | 21 | 22 | 23 |
| 24 | 25 | 26 | 27 | 28 | 29 | 30 |
| 31 | | | | | | |
January 2024
| | | | | | | |
| --- | --- | --- | --- | --- | --- | --- |
| S | M | T | W | T | F | S |
| | 1 | 2 | 3 | 4 | 5 | 6 |
| 7 | 8 | 9 | 10 | 11 | 12 | 13 |
| 14 | 15 | 16 | 17 | 18 | 19 | 20 |
| 21 | 22 | 23 | 24 | 25 | 26 | 27 |
| 28 | 29 | 30 | 31 | | | |
February 2024
| | | | | | | |
| --- | --- | --- | --- | --- | --- | --- |
| S | M | T | W | T | F | S |
| | | | | 1 | 2 | 3 |
| 4 | 5 | 6 | 7 | 8 | 9 | 10 |
| 11 | 12 | 13 | 14 | 15 | 16 | 17 |
| 18 | 19 | 20 | 21 | 22 | 23 | 24 |
| 25 | 26 | 27 | 28 | 29 | | |
March 2024
| | | | | | | |
| --- | --- | --- | --- | --- | --- | --- |
| S | M | T | W | T | F | S |
| | | | | | 1 | 2 |
| 3 | 4 | 5 | 6 | 7 | 8 | 9 |
| 10 | 11 | 12 | 13 | 14 | 15 | 16 |
| 17 | 18 | 19 | 20 | 21 | 22 | 23 |
| 24 | 25 | 26 | 27 | 28 | 29 | 30 |
| 31 | | | | | | |
April 2024
| | | | | | | |
| --- | --- | --- | --- | --- | --- | --- |
| S | M | T | W | T | F | S |
| | 1 | 2 | 3 | 4 | 5 | 6 |
| 7 | 8 | 9 | 10 | 11 | 12 | 13 |
| 14 | 15 | 16 | 17 | 18 | 19 | 20 |
| 21 | 22 | 23 | 24 | 25 | 26 | 27 |
| 28 | 29 | 30 | | | | |
May 2024
| | | | | | | |
| --- | --- | --- | --- | --- | --- | --- |
| S | M | T | W | T | F | S |
| | | | 1 | 2 | 3 | 4 |
| 5 | 6 | 7 | 8 | 9 | 10 | 11 |
| 12 | 13 | 14 | 15 | 16 | 17 | 18 |
| 19 | 20 | 21 | 22 | 23 | 24 | 25 |
| 26 | 27 | 28 | 29 | 30 | 31 | |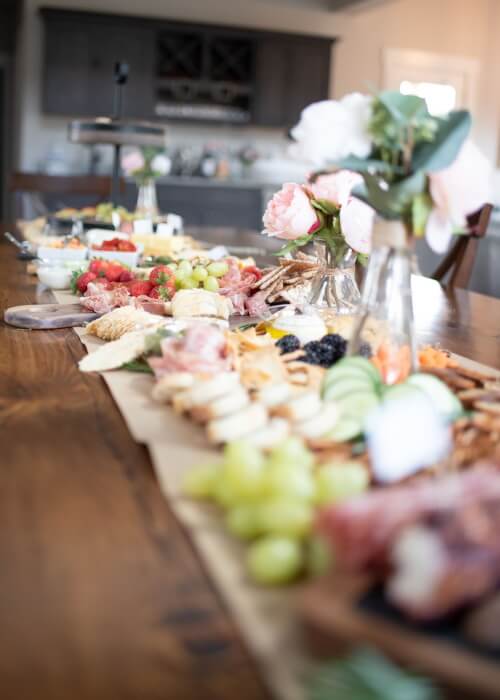 Placeholder
What is included in the rental package?
The flat fee includes access to designated areas of the property for the hours specified in your contract. No guests, caterers or staff are permitted under any circumstances to be in either house unless authorization has been obtained in advance.
May I use my own caterer, DJ, florist, and other vendors?
Maybe! We will provide you with an approved and recommended vendors list. Any vendors not on this list will need to be approved in advance and will need to provide proof of insurance within 30 days of the event. We reserve the right to refuse any vendor not on our list.
Do you require a wedding planner or Coordinator?
Sometimes!  To ensure smooth communication as well as an organized and memorable event, we request the use an approved event planner for events with more than 50 guests and require one for events with more than 150 guests. Although we may have staff on-site during your event, our staff is responsible for managing the venue and do not act as event planners or coordinators. You will find approved event planners on our vendors list and other planners may be considered with prior approval.
Do you provide clean-up?
Maybe! Set-up and clean-up are usually the responsibility of the caterer and/or other hired vendors. You should confirm all of these arrangements with them. If you require clean-up services, we may be able to offer them for an additional fee, please ask. All personal items must be removed from the event areas at the conclusion of the event. Clean-up must be completed the day of the event, within your contracted hours. Removal of any personal items, flowers, rentals, etc. stored outside must be completed by 10:00 AM the next day. Dumpsters will be provided.
May I have more than 150 guests?
Maybe! We are willing to discuss options with you. You may use this form to get in touch.
What if it rains, do you have a tent?
No! If you are worried that your event may be affected by adverse weather, we encourage you to rent a tent. Virginia Tent Rental has a variety of tents and other products for rent.
Are any decorations provided?
No! Other than our scenic grounds, no other decorations are provided. Plants and pots at the Parker House are not to be moved at any time.
What can be used as an exit for the bride and groom?
You are limited to bubbles, real rose petals, or sparklers. Sparklers must be lit outside only (not under a tent or in a building) and you must provide receptacles with sand or water for disposal. If sparklers or other items are thrown on the ground, they must be retrieved. Sparklers must not exceed 20" long. Fireworks are not permitted.
What is your cancellation policy?
If Client cancels the reservation for the Event twenty-one (31) or more days before the Event Date, Venue shall refund to Client the Rental Fee, and the Security Deposit Fee minus the Rental Deposit, which shall be retained as a non-refundable deposit. If Client cancels the reservation for the Event within twenty (30) days of the Event, Venue shall retain the Total Rental Fee, including the Rental Deposit as a non-refundable deposit, although the Security Deposit will be returned.
Are there dressing/changing rooms?
The Parker House will be available for the use by the wedding party. All other guests should come dressed and ready for the event. No guests, caterers or staff are permitted under any circumstances to be in the Parker House unless authorized in advance.
May we post signs to direct wedding traffic?
No! We suggest you post a sign at our entrance naming the couple and date. Other signs posted on County property (medians or right of ways) will be removed by the Virginia Department of Transportation. Signs placed on neighboring properties will be removed by those neighbors. The entrance to RSMF will be clearly marked and parking signs will be provided.
Do you have any on-premise accommodations?
Yes! The onsite houses are included in certain wedding packages and we have plenty of space for camping. Please note: there will be no water, power or dump stations provided. We have listed other lodging recommendations on our vendors list.
May I arrive earlier on my event date?
The hours permitted for your event will be discussed and will be detailed on your contract. Any hours outside of those will be billed at $500.00 per hour.
How late are we able to play music at the reception?
To remain neighbor friendly and to comply with county ordinances, we require outdoor music to cease by 9 PM on Sunday through Thursday and no later than 10 PM on Friday and Saturday. We reserve the right to request that music volume be lowered as necessary to conform to County Rules & Regulations. Guests not staying overnight must leave the grounds by 10 PM and vendors by 11 PM.
May we use an iPod for our reception music?
As we must comply with our county sound ordinances, we require a professional DJ or band be hired for your reception music. There are resources available on our vendor list.
Are we allowed to use buses?
Buses are encouraged and the specific needs of your event can be detailed with your approved event planner. If your approved transportation company has not worked with us in the past, they are required to schedule a site visit at least one month prior to your wedding date.
Placeholder
May I come see the property?
Yes, but… RSMF is not open to the public, the owners and/or event staff are not on site at all times, and there may be other guests staying on the property so an appointment must be made in advance. Please do not show up unannounced.
Do you offer an open bar?
No! Your bar service will be provided through your approved caterer. We prefer and encourage a limited bar of beer and wine, but a full bar is allowed. Bar selections are permitted with the appropriate ABC license from the caterer, which will be verified. No "shots" of liquor are permitted at any time and no tip jars or bar tipping is allowed. RSMF adheres to Virginia ABC Liquor Laws and bartenders must limit the serving of alcohol to guests over the age of 21. Guests should bring proper identification. If there is any doubt of age and no I.D. is provided, alcohol will be withheld. We require that the bar close 1⁄2 hour prior to the close of your event and a last call is optional. No guests are allowed to take alcohol or glasses off premises.
Are pets allowed?
Yes! You and your guests may bring pets, but please keep in mind:
Pets may become nervous if left alone in an unfamiliar place, and may damage property. Any property damage will be deducted from your security deposit.
If the pet is not accustomed to traveling, use a crate or do not leave them unattended. Pets should never be left in unattended vehicles.
Pets should NOT be on the furniture or in the beds. Inform your onsite guests. Additional cleaning fees may be added if this happens.
Please, help us continue to allow pets by being responsible pet owners.
May I use the property for engagement photos?
Yes! 2 hours to use the property for engagement or other photography prior to your event is included in your rental fee, but this will need to be scheduled in advance. There may be other guests staying on the property, so please do not show up unannounced.
May I bring an RV?
Yes! There is a 50 AMP circuit that can be used for an RV hookup at the shed next to the house and a nearby water spigot that will easily reach. There is no sewage hookup.
Can you provide an estimated cost for catering or other services?
No! With respect to your personality, personal wishes, family traditions and customs, we do not take a "cookie cutter" approach to any event. The costs associated to your wedding should always be determined by your personal preferences and budget. Your wedding planner and/or catering contacts can help with this.
What types of decorations are allowed?
Flowers, candles and specialty lighting are all allowed however specialty lighting must be installed by an approved and licensed vendor. You are permitted to have candles as long as they are in approved and enclosed containers (no open tapers). We do not allow nailing, stapling, taping, or anything to be applied that may cause damage to the walls, poles of a tent, trees, or any buildings.
Do you include valet parking?
No! Guests and vendors are expected to only park in areas designated by RSMF for that purpose. No valet or parking service is provided. If desired, you may purchase your own valet or parking service for your event.
Are you covered by insurance in case of an accident?
RSMF is insured for its own liability only. Insurance for the event is required
to be obtained and carried as outlined on your contract. You may obtain information from your insurance agent or apply at for your own coverage from WedSafe.
Will there be any other events on-site the same day?
No! You may see a tour for future clients on the property prior to the start of your event, but there will be no other events held on the property on the same day as yours. However, if you opt to not rent one or both of the onsite houses, there may be other guests staying in those houses on the day of your event.
What is the typical timing of an event?
The property will only be available to you and your vendors within the time frame outlined in your contract. It is recommended that your ceremony commence no later than 5 PM to adhere to the end time constraints and comply with county laws and regulations.
Are restrooms available?
There are three restrooms in the Parker House but these are at no time available to guests outside of the wedding party and rental housing. A restroom trailer can be rented through Virginia Tent Rental.
Are there rooms for babysitting?
Babysitting can be arranged at the Parker House. Any damage to the house resulting from such use will be deducted from your Security Deposit. Playdoh, markers, etc., are not permitted. There must be one chaperone/sitter provided for every 4 children.
May we have a rehearsal for our ceremony?
Yes! We will schedule a time on the day prior to your event for your rehearsal. The rehearsal will be limited to one hour. Unless you have a full weekend rental, the rehearsal time may not be confirmed until 3 months prior to your event – pending another booking for that day. Please make these arrangements through our event manager.
When do I need to provide a headcount?
Your headcount and the details of your event will be requested by the Event Staff in order to properly prepare for your day. These items are due 2 (two) weeks prior to your event day. There are no guest counts allowed over 50 without prior authorization and this number does not include your vendors.
Is there a designated smoking area for my guests?
No smoking will be permitted inside the Parker House, any out-building or tent at any time. As needed, there will be an outdoor area designated for smoking and receptacles provided.